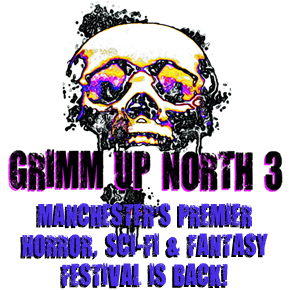 It's Grimm Up North, in case you shandy drinking southerners hadn't realised. And nowhere is it Grimmer than Manchester, particularly this coming weekend.
And I'm not talking about the Conservative party conference (ho ho little bit of politics). No! Cos as well as that, this weekend is the weekend that the Grimm Up North festival takes place, which includes all manner of Brit horror goodness.
The event opens on October 6 with the UK premiere of Retreat (mentioned t'other day on this very blog), a tale of the end of the world as experienced by two yuppies on a remote Scottish island. Sort of like Gregory's Girl, except completely different. The evening will give you the opportunity to cross examine some cast members (I assume this means either Thandie Newton, Jamie Bell or Cillian Murphy or a combination, but I suppose it could mean the bloke who takes the couple to the island in his boat, which would be somewhat of a letdown). It's also being hosted by that doyen of the feeble minded, emotionally retarded or recently bereaved, Yvette Fielding (is it right to describe Blue Peter viewers like that?) who has a vague link to my good self, in that she now lives in the town I grew up in. Get me with my showbiz mates. Why not go along and get all left-field on her ass by insisting on asking questions about Seaview?
And the closing night film on Sunday, October 9 will be none other than the long-unanticipated, and frankly unwanted, sequel to The Wicker Man, The Wicker Tree. Apparently it's dreadful, but why not make up your own mind? And while you're at it, take something to chuck at director Robin Hardy during the inevitable question session happening after the film.
But putting aside my inarticulate attempts at humour, there should be much to enjoy during the weekend for Brit horror, and indeed other-kinds-of-horror, fans.
A quick glance at the website
Grimmfest.com
reveals it's going to be a hoot, and Manchester is actually a lovely place. Get yourself along to it and help support a thoroughly worthwhile cause – e.g. making sure that not everything happens in bloody London.